Volume 2.1 of the edition of the Acts of the Synod of Dordt has been published
After many years of hard work by an international team of experts, volume 2.1 of the edition of the Acts of the Synod of Dordt has been published. This volume encountered the hardships of corona with libraries and archives being closed, and above all the passing away of one of the key scholars for this volume, Dr. Joke Roelevink. In spite of all this a team of editors has managed to complete this massive and important volume and it is with pride that the book was presented in Apeldoorn recently. It is expected that the next volumes can appear at regular pace over the next years
About the project
The Synod of Dordt 1618/1619 was one of the most important church councils in the history of the Reformed tradition. International delegates from all over Europe served as important participants and played a significant role in the evaluation of Remonstrant doctrine and in the formation of the Canons of Dordt. The Synod made important pronouncements on other issues such as Sunday observance, catechism instruction and theological education. Given the continuing worldwide historical significance of the Synod's Canons and church order, the absence of a critical scholarly edition of the majority of documents of the Synod has been a lacuna in research.
The present volume 2/1, The Convening of the Synod of Dordt, contains all correspondence between the States General and the European centers that were invited to partake in the Synod. For the first time all documents are brought together and can be studied in the various original languages. English summaries are provided to give access to this Church historical treasure trove.
The Johannes a Lasco Bibliothek in Emden, a leading research center for the history and theology of Reformed Protestantism, had taken the initiative to edit the Acts and documents of the Synod of Dordt and since a few years the Theological University Apeldoorn has taken over the responsibility for this project. The edition is organized as a REFORC project, with the participation of other institutions and scholars in Europe and North-America and is published by Vandenhoeck &Ruprecht.
Forthcoming volumes
Forthcoming volumes: Vol. III: Doctrinal Deliberations and the Canons of Dordt, ca. 975 pp.; Vol. IV: Remonstrant Doctrinal Documents at the Synod, ca. 1000 pp.; Vol. V: Judgments of the Five Remonstrant Articles, ca. 850 pp.; Vol. VI: Later Sessions and Aftermath, ca. 900 pp.; Vol. VII: Remonstrant Reports on the Synod, ca. 1100 pp.; Vol. VIII: Reports of Foreign Delegates on the Synod, ca. 1000 pp.; Vol. IX: Reports of Dutch Delegates and Contemporary Letters, ca. 800 pp.
Volumes
Volume I, Acta of the Synod of Dordt
Volume II, Early sessions of the Synod of Dordt
Editors
Don Sinnema, Christian Moser, Erik de Boer, Herman Selderhuis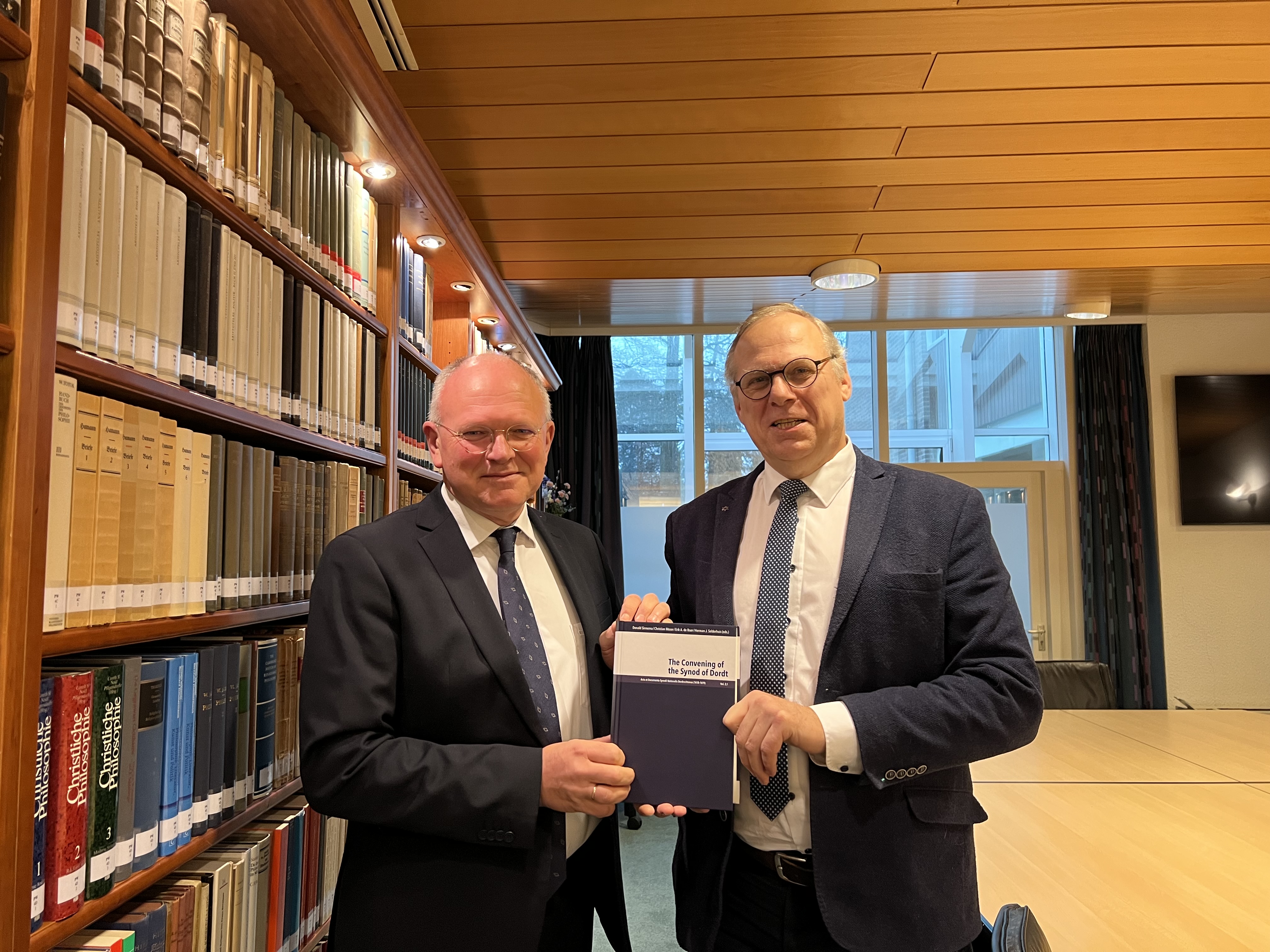 Erik de Boer and Herman Selderhuis, two of the editors of the series Acta et Documenta Synodi Nationalis Dordrechtanae (1618–1619), presenting volume 2.1 at the Theological University Apeldoorn.