Online Workshop: FAIR Principles and Religious Studies
RESILIENCE is opening a series of online workshops dedicated to the topics that it envisions as important for the Religious Studies community and that are also addressed by RESILIENCEs services. The first one will be held September 29, 2023 on the topic of FAIR principles and Religious Studies.
FAIR
The concept of FAIR data, data that meet the principles of being Findable, Accessible, Interoperable, and Reusable, is, with increasing speed, being introduced into various research domains, including Religious Studies.
Online Workshop
The online "RESILIENCE Workshop: FAIR Principles and Religious Studies" is interesting for researchers in Religious Studies, librarians, archivists and other interested. It will make you familiar with the FAIR principles, with trusted digital repositories for finding, accessing, reusing and sharing data, with EOSC and the role of research infrastructures such as RESILIENCE. You will also learn why Data Management Plans, standards, formats, rights and licences, GDPR etc. are important in the context of good data management practices.
RESILIENCE wants to engage with its community in the most effective way, and value the arising questions and needs.
Therefore, the workshop is organised in two steps:
- a webinar, which is pre-recorded and sent to all interested participants;
- a live workshop, addressing questions and offering a hands-on session.
In the hands-on session, guided by the expert trainers, you can practice making your data set ready for publication according to the FAIR principles.
Date and Time
Friday September 29, 2023, 15:00 h – 16:45 h CEST via Zoom.
Registration
You can register here.
Timeline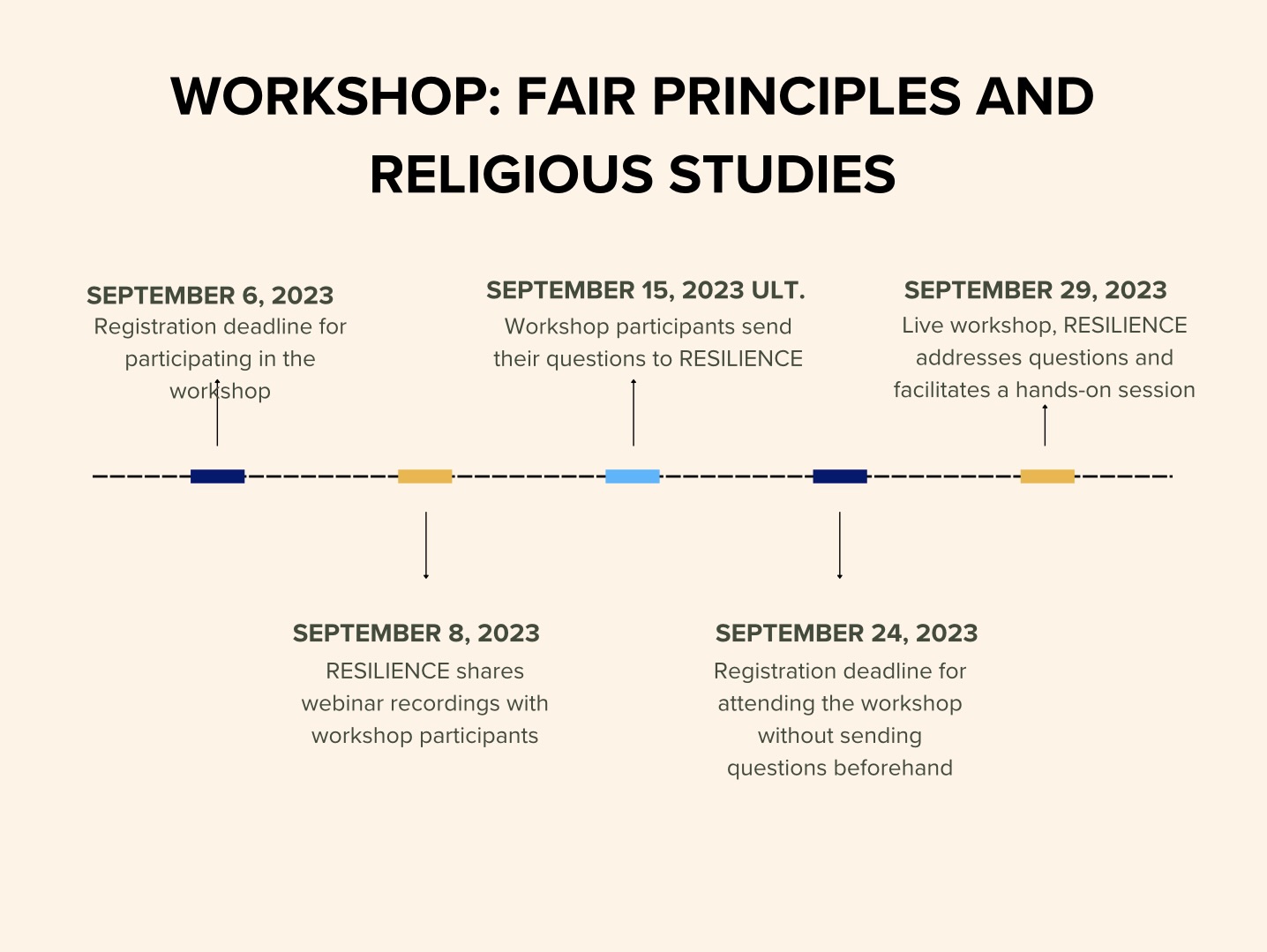 Contact
If you need any support or advice, please contact RESILIENCE via email.
Upcoming RESILIENCE Workshops
Information on upcoming RESILIENCE workshops is expected.
About the Trainers
Roxanne Wyns (f) is innovation manager at LIBIS, a digital service provider part of KU Leuven Libraries. As innovation manager she specialises in FAIR data infrastructures and works on several domain specific research infrastructure projects related to FAIR management of data collections. Roxanne is co-promoter and technical lead of the FWO medium scale infrastructure project iCANDID 3.0 SSH FAIR Data Hub and co-director of the RESILIENCE. She's also involved in university wide and cross-domain initiatives in support of Open Science and FAIR data such as the realisation of the institutional research data repository. She participates in several Open Science and Research Data Management initiatives in Flanders and Europe and is co-chair of the EOSC-A Long Term Data Preservation Task Force.
Michiel De Clerck studied Early Modern History, as well as Social and Cultural Anthropology at KU Leuven. His work is focused mainly on European Horizon 2020 projects and FWO funded KU Leuven projects geared towards setting op research infrastructures and research supporting services in collaboration with KU Leuven research groups. The emphasis in these projects is the FAIR management of and FAIR access to data collections.